Here's Printavo's 2020 trade show schedule for the screen printing industry's top trade shows.
We'll give guided tours of Printavo, answer questions, take your feedback, give away some amazing swag, and be on the ground to learn how Printavo can help you grow your business.
Here's the trade shows Printavo will attend during 2020:
Impressions Expo Atlantic City, NJ
March 18-21
IMPORTANT:
After careful consideration, the Printavo team will not attend Impressions Expo Atlantic City 2020.
The World Health Organization has officially declared the novel coronavirus a global pandemic.
We have made this difficult decision to protect the health and safety of Printavo's team and Impressions Expo attendees.
We will monitor this rapidly changing situation and decide about other upcoming trade shows as the dates approach:
Impressions Expo Orlando, FL
Rescheduled for September 10-12, 2020
NBM Show: Providence, RI
Canceled
NBM Show: Indianapolis, IN
June 11-13
2020 Sports, Inc. Summer Team Dealers Show
June 14-16
Impressions Expo Baton Rouge, LA
June 17-20
Impressions Expo Fort Worth, TX
August 27-30
NBM Show: Cleveland, OH
September 24-26
NBM Show: Charlotte, NC
November 4-6
Trade shows are the fastest way for screen print businesses to build a network, make connections in the industry, access high-value educational opportunities, and meet new friends. Every screen printer should make it a point to attend at least one trade show a year.
Impressions Expo 2020 at Atlantic City in March
We'll give guided tours of our simple shop management platform March 19-21, 2020 at Impressions Expo Atlantic City!
We're also giving out copies of our first book, A PrintHustler's Guide to Growing a Successful Screen Printing Business.
Find Printavo at Impressions Expo 2020 Atlantic City, directly across from ROQ's amazing display.
The print industry's leaders will be in Atlantic City for Impressions Expo. You can meet with screen print companies like:
Printavo. Simple screen print shop management software to organize and grow your business.
Bella + Canvas. An industry leading garment manufacturer.
Ryonet. Powerhouse supplier with a trusted legacy of education.
The M&R Companies. The world's leading manufacturer of ultra durable screen printing machines (check out our tour of the M&R headquarters).
Next Level Apparel. A trusted source for fashion-forward garments.
Jerzees. Perfectly popular and printable sportswear for everyone.
Additionally, the educational opportunities at Impressions Expo are unparalleled. Check out their thought-provoking workshops and seminars.
PrintHustlers Conf 2020: July 24-25 at Ace Hotel in Chicago
We're not just attending trade shows. We're hosting our fourth annual conference for screen printers (PrintHustlers Conf) at Ace Hotel in Chicago.
Last year, nearly 200 print shops from across the world joined us to have candid discussions about the realities of running a successful print shop. They learned how to start turning a profit, keep their employees happier, and automate their businesses.
Need an idea of what PrintHustlers Conf is like?
Held from July 12 to 13 in downtown Chicago at East-West University, PrintHustlers Conf 2019 featured thought-provoking conversations and highly actionable presentations.
This year, we'll dive even deeper into the complex issues that screen print shops face. It's a can't-miss event and tickets are selling fast.
Impressions Expo 2020: an overwhelming experience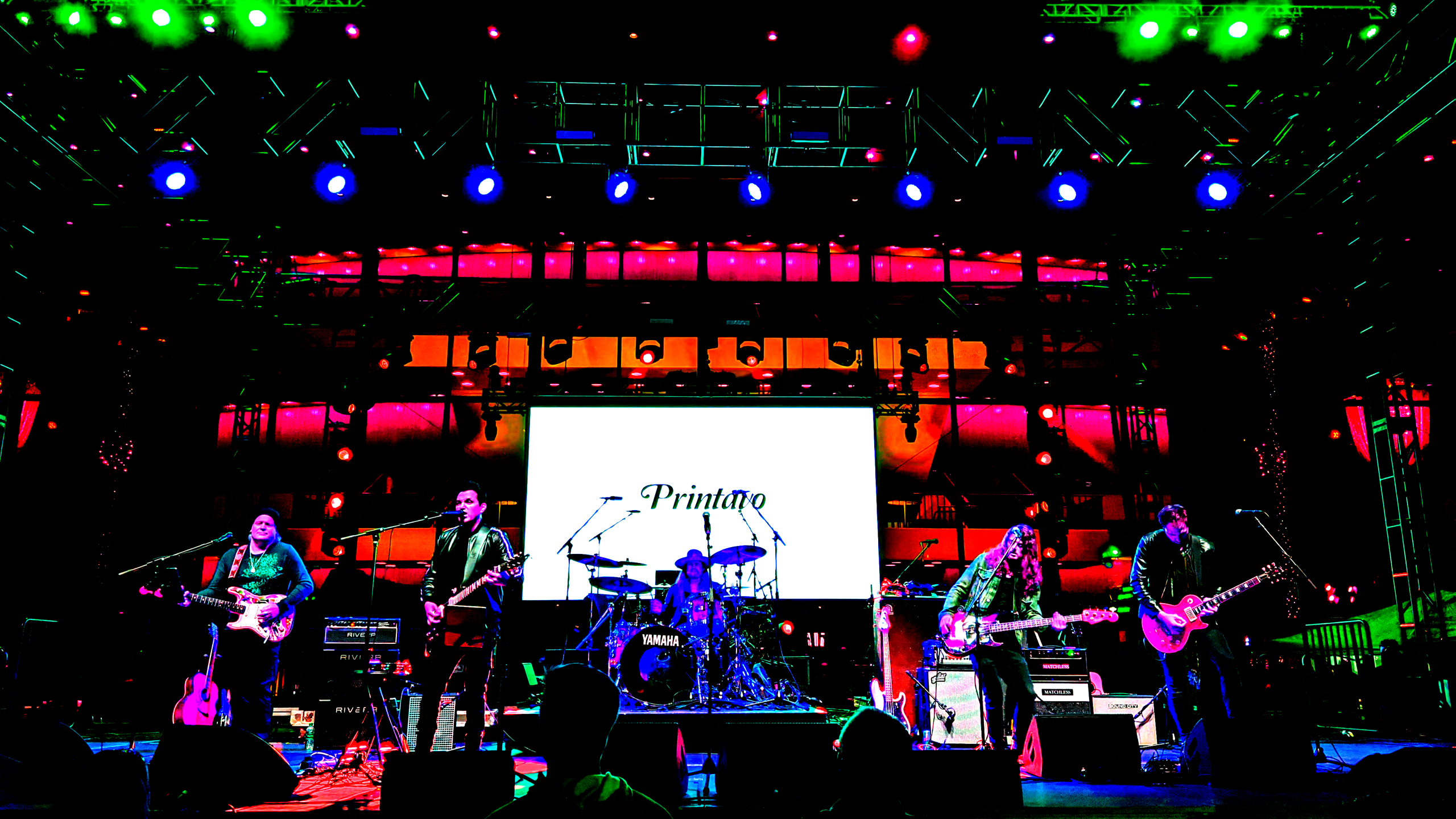 We were thrilled to share a booth with Ryonet at Impressions Expo 2020. Ryonet has turned Impressions Expo into a big party, creating a "big tent" feeling that welcomes all visitors. It's a stunning scene.
The Printavo team has grown since 2019, and we were fortunate enough to escape the cold Chicago weather for a week to visit sunny Long Beach, California. Impressions Expo is an unparalleled opportunity for Printavo to meet the people that we serve, talk to, and read about in the screen print industry.
We were fortunate enough to visit Family Industries, Calimucho Screen Printing, Grow Your Own Media, and Let's Print LA while we visited – and interviewed 15 different shops from around the US.
Dozens of amazing shops, printers, and friends stopped to talk to us at our booth. This is rocket fuel for Printavo. It's how we stay motivated and focused. We can't thank everyone enough for your support and kind words.
Check out our YouTube channel for our candid interviews from Impressions Expo 2020!
More shows to follow!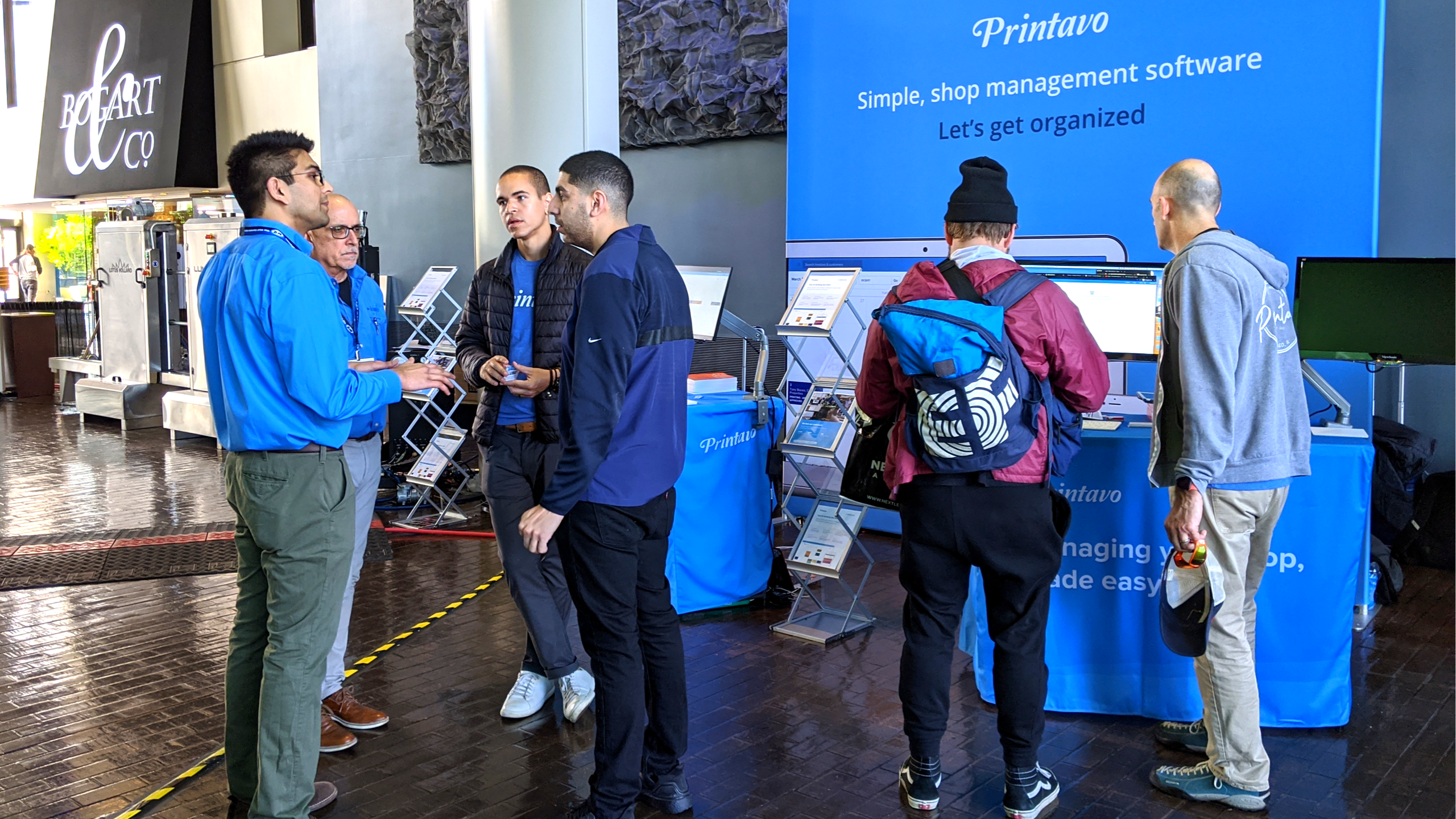 If you do one thing this year to educate yourself and improve your business, then you should attend trade shows. Even just one will make a huge impact.
Screen printing trade shows an invaluable way to build a stronger network. You'll connect with knowledgeable industry insiders and see the industry's cutting-edge screen printing inks, presses, digital printing advancements, garments, and more.
Get the most out of trade shows. Attend seminars and workshops, have fun, and keep pushing!
We will update this article as we add trade shows throughout the year.