Printavo is thrilled to welcome Ben Liu onboard as our newest software engineer!
In 2012, Printavo was my side-project. Heading into 2020, Printavo is the premiere simple shop management software for screen printers, DTG printers, embroiderers, sign shops, and dozens of other custom printing applications. Printavo's software is used by thousands of print shops around the world!
Now, we're hiring and expanding our team to make Printavo even better.
Ben hit the ground running, joining us for a tour of M&R on his second day at Printavo. Like the rest of the Printavo team, Ben was totally blown away the size and scale of M&R's manufacturing facility just outside of Chicago.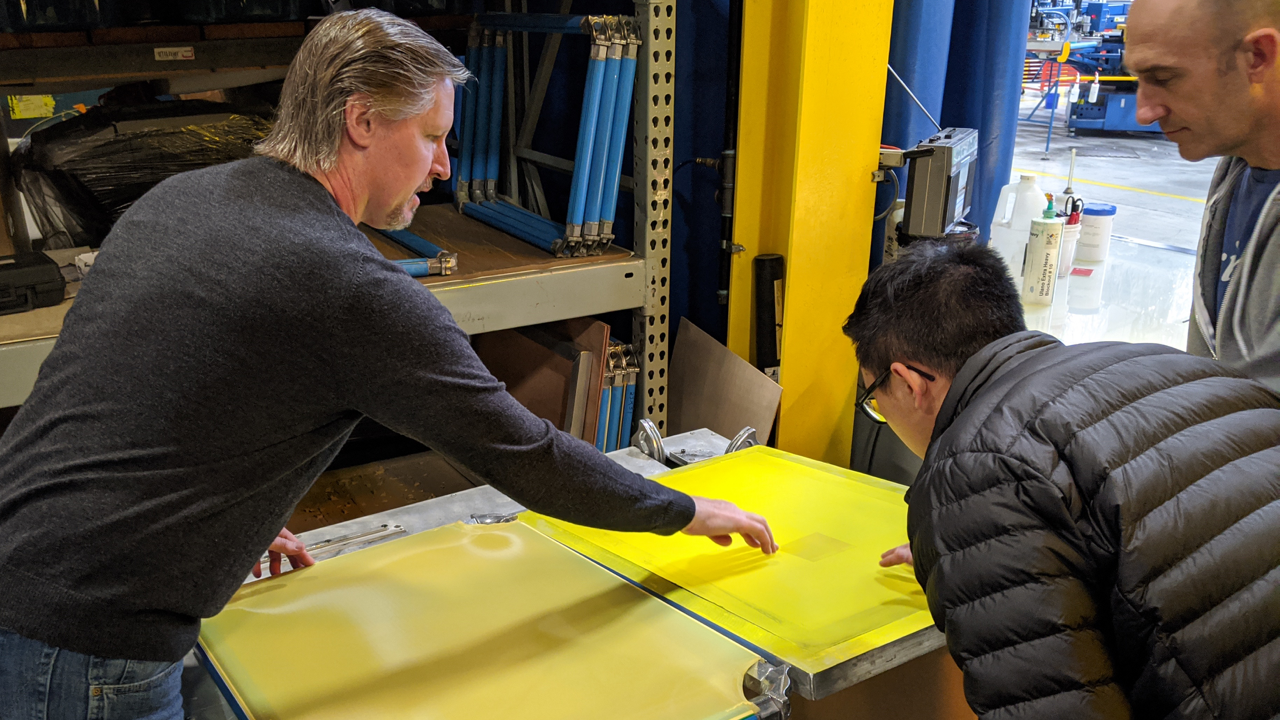 We sat down with Ben to get a feel for who he is and what he's interested in. Here's what he had to say.
What are 3 things left on your bucket list?
Ben wants to travel to space and check out our closest neighbor: "I want to visit the moon. Hopefully Elon Musk makes a space elevator soon." He's also got a musical streak. "I hope to fully write and produce a song." What will it sound like? Pretty interesting, we'd wager. "Songwriters that I've appreciated are pretty varied: Bob Dylan, Ezra Koenig (Vampire Weekend), Bon Iver, to Kendrick Lamar." Finally, Ben is no stranger to the gym. "I want to get to USPA Class II (Combined bench/squat/deadlift of 992) for my weight class."
If there were no consequences, which store would you love to max out your credit card in? What would be the first thing you'd buy?
Ben is no stranger to technology, and his favorite place to spend a wheelbarrow of cash is BH Photo Video. "I'll take the DJI Mavic 2 drone. Video equipment is expensive! And second, I love all things photo and video. There's all these kinds of incredible shots that are suddenly possible with a drone." Ben pointed us to this awesome Time Magazine video about drone shots in films. Maybe a drone documentary to go with his homemade soundtrack?
What's your favorite restaurant (or meal)?
Ben likes "real, authentic Chinese food that the guys from the mainland vouch for." That means he springs for JMC Szechuan over Chicago's other staple Chinese restaurant, Lao Szechuan. He's got recommendations, too. "Definitely get the classics like the double-cooked pork, boiled fish, cumin lamb – not the 'popular dishes' on Yelp." Sounds delightful. We're already booking our reservation...
---
Printavo has helped thousands of shops across the world streamline their processes, get paid faster, grow their business, and manage their shop from anywhere in the world. We're dedicated to our mission: helping print shops grow and reach their full potential through software, support, and education.
Curious to see who uses Printavo and what their shops are like? Check out our shop tours with some of our amazing partners:
Interested in working at Printavo? Want to help passionate people build better businesses? Love custom apparel? We're hiring!
Check out our current open positions here. Don't hesitate to apply – we're looking for passionate people that want to learn, grow, build and develop with us.